The ideal combination of performance and portability when working off the beaten path. The durable magnesium casing, an IP66 design and a built in battery makes the Explorer 510 fit for the purpose. The intuitive user interface that can be accessed from your smart phone or PC. Use the Explorer 510 connect app to easily operate the Explorer 510. Connect the optional cellular modem for a cellular backhual solution.
The new EXPLORER 510 BGAN terminal features a unique new, compact design and focuses on wireless connectivity. The durable magnesium casing with dust and water resistance makes the EXPLORER 510 the perfect choice when working off the beaten track.
EXPLORER 510 Key Features:
Magnesium casing, IP66 rating and integrated battery pack
Simultaneous high quality voice and broadband access at speeds up to 464 kbps
Smaller than a standard laptop and weighing less than 1.4 kg
Easy to set up and operate
Use your smart device to make calls or easily access the internet with the EXPLORER Connect App
Product Number: 403711A-00500
Package includes:
EXPLORER 510 terminal
Built-in Rechargeable Lithium Ion Battery
EXPLORER Softbag
USB to Ethernet Converter Cable
100-240VAC Power Supply
Multi-Languge Quick Start Quide
Multi-language webserver and embedded manual (ENG, FR, DE, ES, RU, JP and CN)
Accessories:
Polemount
EXPLORER Softbag (included in the package)
100-240VAC power supply
Car Charger cable
EXPLORER 4G USB Modem (expected to be available in Q1 2015)
Includes: EXPLORER 510 terminal, built‐in rechargeable lithium ion battery, explorer softbag, USB to Ethernet converter cable, 100‐240VAC Power Supply, Multi‐Language Quick Start Guide, Multi‐language webserver and embedded manual.
Special order, sorry but no returns.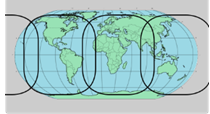 One year manufacture warranty