The Cobham SATCOM BGAN EXPLORER 727 antenna is roof mounted, vehicular BGAN and is constantly tracking satellite positions, which in turn provides a high speed broadband connection at all times.
Whether engaged in military actions, live broadcast, telemedicine, video conferencing or live interviews, the BGAN EXPLORER 727 provides rapid response and deployable communications. The EXPLORER 727 satcomms terminal is unparalleled in the industry today with its robust, reliable and durable design.
What is included in the box: Fully Integrated Auto-Tracking Antenna, EXPLORER Land Vehicular Transceiver, Standard Ethernet Cable (5m/16.4ft), 12/24 VDC input cable (6m/19.7ft), - Antenna Cables, COAX w/ TNC Connector (2,7m/8.8ft, 8m/26ft), Quick Start Guide, CD with manuals, Thrane IP handset wired with Cradle and Coiled Cable, and Antenna mounting kit (Fixed / Rail).
Choice of color is desert sand or white. Special order, sorry but no returns.


Physical

Weight:
2.5kg
Transceiver Dimensions:
4.2cm x 23.1cm x 27.3cm
Transceiver Weight:
2.5kg
Antenna Dimensions:
15.2cm x Ø47.7cm
Antenna Weight:
6kg
Operating Temperature:
-25°C to +55°C
Operating Humidity:
95% non-condensing
IP Rating:
Transceiver: IP31 | Antenna: IP56

Power

Input Voltage:
10.5 - 32V DC
Service

Standard IP:
Up to 492 kbps
Streaming IP:
32, 64, 128, 256 kbps
BGAN X Stream:
Min. 384 kbps on-the-pause
Data:
yes
ISDN Capability:
yes

Call features

Voice:
yes
General

Prepaid:
yes
Postpaid:
yes

Product Interfaces

Ethernet (RJ-45)
ISDN (RJ-45)
Phone (RJ-11)

In the box

Quick start guide
Antenna cable
IP handset with cradle & coiled cable
CD with manuals
EXPLORER 727 transceiver
EXPLORER 727 tracking antenna
Standard Ethernet cable
24V DC input cable
Antenna mounting kit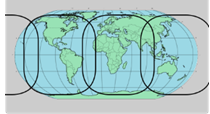 One year manufacturer warranty.