The Hughes 9202M BGAN Land Portable Satellite Terminal provides reliable IP connectivity over the Inmarsat Broadband Global Area Network (BGAN) - ideal for governments and NGO's, first responders, public safety and mobile heath workers, and remote personnel in industries, such as utility, oil & gas, forestry, cable, and telecommunications.
Using the world's smallest class 2 BGAN terminal, users can connect at IP broadband speeds up to 464kbps, as well as take advantage of such features as built-in multi-user Wi-Fi access, external tracking antenna, automatic context activation (ACA), including the ability to transmit SMS messages via the integrated user interface (IUI) without a connected laptop, smart phone, or other user device.
Features:
Rugged and durable IP55 rating
Backlit LCD user display including four-button control
Wi-Fi b/g/n supporting multi-user access
Two-line RJ11 for voice and fax
Advanced integrated user interface (IUI)
Automatic Context Activation (ACA)
XL-band supported
External antenna options
Download Hughes 9202m Spec Sheet Here
Download Hughes 9202m User Manual Here
Physical

Dimensions:
21.6 x 21.6 x 4.1 cm
Weight:
1.4 kg
Operating Temperature:
-5°C to +55°C with battery
Operating Humidity:
95% RH at +40°C
IP Rating:
IP55
External Antenna:
yes
Mounting:
¼ inch UNC threaded hole for tripod mounting

Power

Stand By Time:
Up to 36 hours
Max Receiver Time:
1518-1559 MHz
Max Transmitter Time:
1626.5-1660.5 and 1668-1675 MHz
Battery Type:
Rechargeable lithium ion battery
Service

Standard Data Rate:
464 / 464 kbps
Streaming Symmetric Data Rate(s):
128 / 128 kbps
Data:
yes
SMS:
yes
Email:
yes
Broadband:
yes
ISDN Capability:
yes

Call features

Voice:
yes
General

Prepaid:
yes
Postpaid:
yes

Product Interfaces

Compass and audio tone to assist in antenna pointing
External antenna connection
RJ-45
Two-line RJ11 for voice and fax

In the box

Recharchable Lithium-Ion battery
5m Ethernet cable
AC/DC adapter with UK, EU & US power cables
Hughes 9202M Land Portable Terminal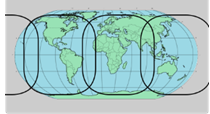 Special Order - no returns.